Custom Metal Label Template Data001 (Create Your OWN Data Name Plates)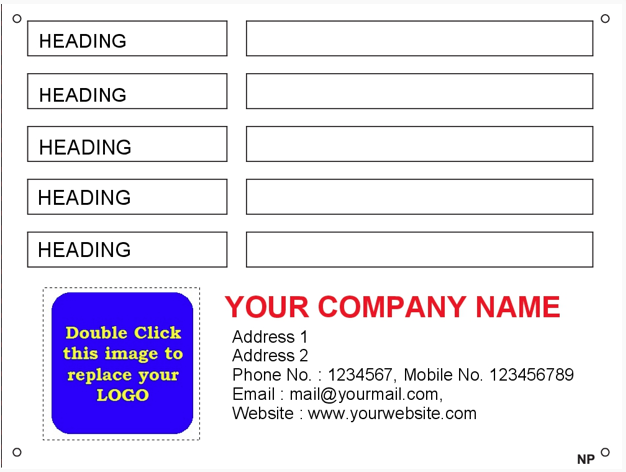 Size Available : 80 x 60mm, 100 x 75mm, 120 x 90mm, 140 x 105mm, 160 x 120mm, 180 x 135mm, 200 x 150mm
Available in Aluminium.
To create your own design, Kindly click below "Customize Your Design" option and Select from ready made templates and customize as per your choice
Are you interested in customize your design ?
Next Step : If not logged in please login or register first then click on continue checkout.
Product Review
Size Available

: 80 x 60mm, 100 x 75mm, 120 x 90mm, 140 x 105mm, 160 x 120mm, 180 x 135mm, 200 x 150mm

Available in Aluminium.

" data-url="https://www.nplabel.com/product_info.php?pid=289" data-image-url="https://www.nplabel.com/images/product/

Size Available : 80 x 60mm, 100 x 75mm, 120 x 90mm, 140 x 105mm, 160 x 120mm, 180 x 135mm, 200 x 150mm

Available in Aluminium.

" >